Noridian Jurisdiction E (JE) Contract Takeover Palmetto GBA/J1
The California, Nevada, Hawaii, Guam, American Samoa, and the Northern Mariana Islands Provider and Vendor Community will now be handled by Noridian.
We have been in contact with Noridian Medicare and their Team. At this time, we are awaiting additional information from Noridian to begin the process of 'change' to our software. As new information funnels in, we will be updating our website and sending email notifications that will include the latest information.   
Prime Clinical Systems is currently looking into alternative connectivity solutions for direct Medicare billing, however, we to encourage all of our clients to switch their claims to their clearinghouse. For additional information on clearinghouse solutions, click here.
If your office is already billing 'DIRECTLY' to Palmetto, your office will not be required to do any testing. At this time, we encourage all of our clients to attend any webinars that Noridian is providing, keep records of all contact information and sign up for email distribution.
If your office is sending claims via a clearinghouse, your clearinghouse will handle the testing.
On June 3rd, Noridian will begin the 'Total On Boarding' for early testing. As your Software Vendor, we will be joining the Total Boarding and begin testing directly with Noridian.
Time Line: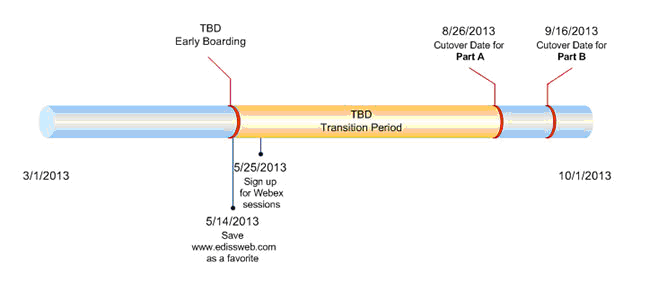 Noridian Contact Information:
Hours of Operation
   Mon, Tues, Thurs & Fri:
   8:00 A.M. - 4:00 P.M. (your time zone)
   Wed:
   10:00 A.M. - 4:00 P.M. (your time zone)
Phone
   877-908-8431 (Part A & Part B)
   866-497-7857 (Minnesota Part A only)
Fax
   701-277-7850
Email
   support@edissweb.com