Intellect Practice Management Software by Prime Clinical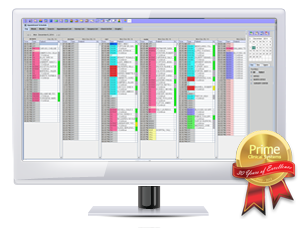 Prime Clinical has provided professional services and time-tested practice management software to physicians for more than 40 years. Intellect, our ICD-10 ready practice management system streamlines all aspects of administrative workflow, from appointment scheduling to insurance billing. This allows you and your staff to focus on what matters most: delivering high-quality patient care. Intellect practice management software also allows for full integration with your EHR, permitting data to flow easily and securely through each of your healthcare organization's patient data management applications.
Testimonial
We chose Prime Clinical Systems based on the functionality which was demonstrated, and the company came highly recommended by another practice in our community. We now have NO CHARTS in the office which has increased our productivity and decreased our stress level. It's wonderful, and easier to find things.
Edward Auen, MD (Modesto, CA)
Top rated as a leading practice management solution, Intellect can be used to effectively manage patient scheduling, carry out medical billing, and much more.
Send appointment reminders to patients via email, telephone or text message.
Verify patients' insurance eligibility before they walk in the door.
Generate billing statements and aging reports automatically.
Track and ensure that proper reimbursement is met for each CPT code on every bill.
Process claims to over 1,300 insurance companies.
Enable scheduling and billing workload to be shared remotely between multiple practice locations.
Have monthly, quarterly and yearly stacked reports printed at any predefined time or interval.
Are you ready for ICD-10? We are!
Prime Clinical is your trusted partner for ICD-10 compliance.
For more than 40 years, Prime Clinical has been an innovator in practice management, insurance billing and claims processing solutions. We are leaders in our industry, and we are dedicated to making continuous improvements to our software so that our clients' needs are always met. Our Intellect practice management software is ICD-10 ready, and our team of experts is committed to helping your healthcare organization prepare for the ICD-10 deadline as well.
ICD-10 diagnosis codes will need to be used for all healthcare services provided in the United States; and ICD-10 procedure codes will need to be used for all hospital inpatient procedures. This means that all HIPAA-covered healthcare entities – from healthcare providers and payers to billing services and clearinghouses – must be prepared to comply. Any claims submitted with ICD-9 codes for services provided on or after the compliance deadline will not be paid.
At Prime Clinical, we work with clients to install and test our advanced EMR-integrated billing and scheduling software, ensuring it can accurately process ICD-10 claims without disrupting workflow or affecting cashflow. Be proactive and make sure your organization is ready.
Our personal attention and practice management software expertise set us apart.
In addition to providing physicians with the tools they need to manage their practice more efficiently, we also bring a wealth of knowledge to the table and a dedication to helping our clients have the best experience possible with our practice management software. We take great pride in Intellect's practicality and ease of use, and we work hard to actively improve our product every day. Our team also strives to provide top-quality customer service and support to each one of our clients, because we believe that it is the little things that make a difference.