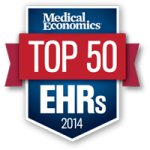 Patient Chart Manager EHR by Prime Clinical
Four decades of experience and proven results.
Prime Clinical has provided leading patient data management solutions to physicians for more than 40 years. Our fully integrated electronic health record software and practice management solution streamlines all aspects of clinical and administrative documentation, from appointment scheduling and patient intake to exam documentation and medical billing. In fact, our Patient Chart Manager EHR software has been shown to reduce labor hours associated with these time-consuming tasks by as much as 30%.
Our EHR software is ONC-ACB certified and fully HIPAA compliant.
The EHR's tools integrate with and track patient chart data, appointment history, prescription history, lab reports, allergies, images, and much more.
Our medical record software is compatible with the HL7 medical data exchange standard and the DICOM medical imaging standard.
EHR Certification, Product Transparency and Cost Information
We set the standard for electronic health record software flexibility and ease of use.

Our Patient Chart Manager alleviates the burden that can be caused by switching to electronic charts by incorporating the features that healthcare organizations look for in an EHR, all in one easy-to-use platform. Our EMR/PM solution can be customized to match the needs of any healthcare organization, be it a solo provider practice or a multi-specialty, multi-provider group. Even the "look and feel" of our EHR software can be modified by each user. This means that every physician, PA, nurse, administrator and staff member in your office can enjoy an EHR that has been personalized to meet their individual preferences. We are so confident with our product and our services that we guarantee your satisfaction in writing or your money back.
Our commitment to our clients sets us apart.
In addition to providing physicians with the tools they need to improve efficiency and increase quality and accuracy in patient care, we also bring a wealth of knowledge to the table and a dedication to helping practices have the best EHR experience possible. Our team will help ensure your medical record software is set up to your liking and that the implementation process does not disrupt your normal workflow. We take great pride in our EHR software and its ability to help physicians provide the highest quality care. We show our commitment by actively improving our Patient Chart Manager every day and by providing the kind of customer service and support that our clients deserve.
Contact us about our Patient Chart Manager EHR software.
Physicians trust our integrated electronic health record software. Contact us and we'll show you why.